If you have the Red Giant Application Manager installed onto your system, you can uninstall products through it by selecting Uninstall under the product's options.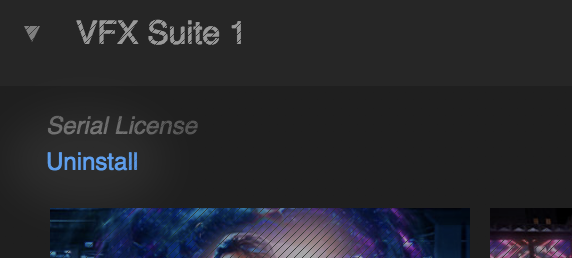 To uninstall without the Red Giant Application Manager:
On a Windows system

Head into the Control Panel's 'Add/Remove Programs' section and select whichever suite of plugins you wish to remove.

On a Mac system

Typically an uninstaller application is available in the same downloaded package as the installer. Run this application to uninstall your Red Giant products.
To manually uninstall:
Remove the files from the host's file directories:
Final Cut Pro/Motion:
MacHD/Library/Plug-ins/FxPlug/
MacHD/Library/Application Support/Final Cut Pro System Support/Plugins/
After Effects/Premiere Pro:
MacHD/Library/Application Support/Adobe/Common/Plug-ins/7.0/MediaCore/
MacHD/Applications/After Effects/Plug-ins/
Avid:
MacHD/Library/Application Support/Avid/AVX2_Plug-ins/